Ward:801
Virtual Reality
2022
Ward:801 is a virtual reality experience based on A hospitalization in a psychiatric hospital. The work is accessible via a headset (Oculus). You will find yourself in a 3D environment constructed from memory of what the psychiatric ward felt and looked like, and experience the scene from a first person POV in a 3D animated character, at best simulating my body.  Once in there, you are able to wander around and explore the ward whilst meeting the staff and other patients. The work is utterly subjective, utterly fictive however still manifesting how we can approach our past again and again in order to stage it anew and understand it differently. 
Installation shots What If I Am Not An Übermensch?                                                Photo credit: Mikkel Kaldal
What If I am Not An Übermensch?
Videoinstallation (10-channel), animation
10:00
2022
What If I Am Not An Übermensch? consist of 10 individual videos, each featuring a 3D animated doctor, psychologist and psychiatrist. These are projected onto curved walls putting the viewer in a circular field surrounded by videos. Each video is equipped with a speaker that faces the centre so that the animated characters all speak to the middle. The situation  simulates a diagnostic evaluation, similar to one I underwent during my hospitalisation, and the videos will therefore appear over-proportioned to emphasise the feeling of being "under the magnifying glass". The conversations are based on various passages from my medical records, however rearranged.
RATATAT A TALE
Animated video, machinima
04:14min
2021
RATATAT A TALE is a 3D rendered environment seen from the perspective of an unwanted being. Similar to a rat it creeps by the walls, hide behind pots and lurks beneath the trash whilst hiding from the humans. A voice over, speaking the thoughts of the rat, wonders why it is so unwanted. The environment is one similar to the apartment complex in which I live. We don't talk much, we don't have that much in common but we share the courtyard sometimes.
 Kindly supported by The Danish Arts Council
Here comes the sun
Virtual reality 
Infinite loop
2021
Here comes the sun is a short virtual reality experience built upon a memory from a day at an Austrian wine tavern. The birds are singing, sun rays are beaming and the wine never tasted better. It's the first day out after many months of lockdown. Joy and laughter compete with one another to suppress the ghastly past. A sudden event pokes at us to test whether we are still the same or if something has changed.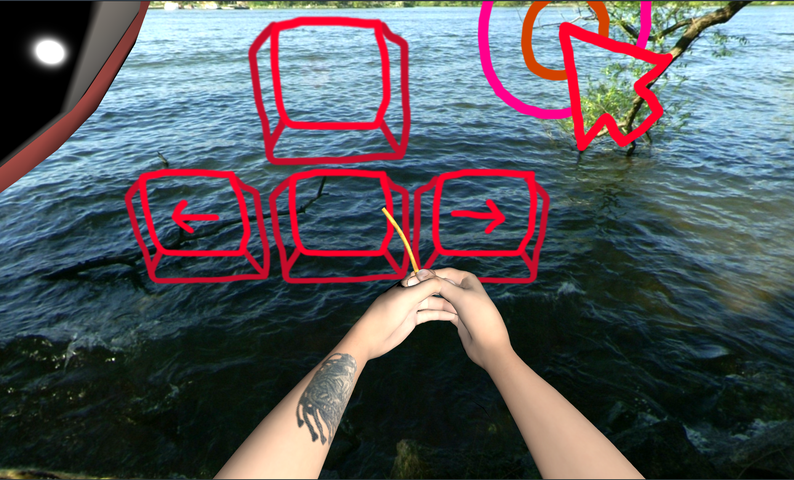 But is my reality the only one?
Web application
Infinite loop
2020
An interactive experience on eating and being eaten.
Controls are left/right arrow keys and mouse.
Vernissage for beginners
Interactive Video
Infinite loop
2018 
Vernissage for beginners is an interactive video simulating an art opening back in Copenhagen 2015. Every year the "Copenhagen Center of Contemporary Art" sends out an opencall for the prestigeous fall exhibition. To apply one had to pay a fee, to participate (if accepted) one had to pay a fee, to have dinner with other selected artist one had to pay a fee. Exhibiting artists have no say in the curation or installation of their works, however they recieve a yellow sticker labeled artist to wear for the big opening night.
 
Vernissage for beginners invites the viewer to navigate around the opening, meet other guests, cheer a selection of drinks and finally throw money if a work is of their particular liking.The building and the people are created from memory however its important to mention that all artworks inside are fictional except from my own submitted videowork. The project is realized with the gaming software UNITY, however It is not a game reaching a goal. It is rather a representation of a place and a memory I want to share.
Old Habits 
Virtual Reality
Infinite loop
2019 
"Old habits" is a memory of a time working as a caretaker at a retirement home in Denmark.
KillJoy
Animated Video
05:26
2018 
KillJoy is an animated passiveagressive suburban tragic-comedy dealing with social norms of happiness. The scene is set around a family and their dinnertable .It is the usual gathering but something is off
Direction and Animation: Line Finderup Jensen
Music : Benjamin Grodin
Neighbourhood
Animated video
2016
03:52
Gliding through google earth and animated weapons, a voice over is telling the story of how neighbours treat each other and their cats in the northern suburbs of Copenhagen
Warn Others of slippery conditions, so that everyone can walk with caution
Interactive Video
2017
"Warn others of slippery conditions, so that everyone can walk with caution" is a videogame created from a personal experience at the Oberlaa therme in Vienna. There is no start or end, it is merely an atmospheric experience, played through a firstperson character.